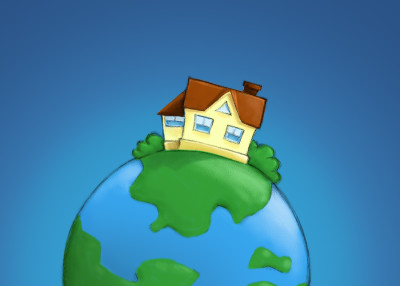 With the help of the first time homebuyers tax credit, my youngest brother, Kevin and his girlfriend, Maggie closed on their first home today.  I would have loved to have been their buyers agent because I really enjoy working with first time homebuyers and they are family.  But distance got in the way because Kevin and Maggie wanted to purchase a home in Watson Illinois and I am only licensed to practice real estate in the State of Texas. Bummer for me.
The role I was left to play was the role of the real estate advisor.  As a first time homebuyer, Kevin had lots of questions about negotiations, the option period, inspections, and the entire process of purchasing real estate. I did my best to answer my brother's questions but I soon found myself at an extreme disadvantage and I wonder if I was really any help at all.
Kevin wanted to offer the sellers 90% of the list price for their home and he asked me if I thought that was reasonable.  My response was "What are similar homes in the area selling for?  In the Spring Texas real estate market homes that are priced correctly for the market sell for 96% to 98% of list price".   My brother, didn't want to know about the Spring Texas real estate market.  He wanted to know about the Watson Illinois real estate market. Real estate is local and what I know is the Spring Texas real estate market.
It did not take long for Kevin to figure out I was going to be of very little help to him in his purchase of a home in Watson IL.  He was going to have to rely upon his Realtor for the answers to his questions about the local real estate market.
I don't suspect Kevin will call on me again to be a real estate advisor for Watson IL.  But hopefully he will call on me again to be an advisor for a different subject because older sisters are wiser.  At least I think so.
Congratulations on becoming first time homeowners, Kevin and Maggie!!  Rick and I wish you much happiness in your new home.