What's going on in the Spring TX real estate market?  Is it UP ? or DOWN ??  The market is still down compared to 2008 levels with the good news being the decreases continue to … well, decrease.   Considering we started the year out with sales volume decreases of almost 30%  a decrease of only 15% sounds pretty darn good.
Months of inventory is sitting at 5.7 months which is a full month less of inventory than we had at the same time last year.
Not all price ranges are experiencing the same level of improvements.  The over $400,000 price ranges continue to struggle.  If it wasn't for buyers relocating to Spring Texas, the activity in the upper price ranges would be almost non-existent. The economy and the stock market will need to experience additional improvement before buyers create demand in the upper price ranges.
The first time homebuyers tax credit has been the driving force behind the market in 2009. The extension of the first time homebuyers tax credit until April 30, 2010 will continue to help drive the market in 2010.  The big question is will the $6,500 "move-up" tax credit be enough to drive home sales in the $200,000+ market? With the uncertainty of the economy and the high unemployment numbers, I don't envision the "move-up" tax credit having much of an impact on the Spring Texas real estate market.
I predict our market will experience a little bit of a lull in December.  The first time homebuyers who were motivated to purchase a home by the tax credit already had their homes under contract before the announcement of the extension of the tax credit.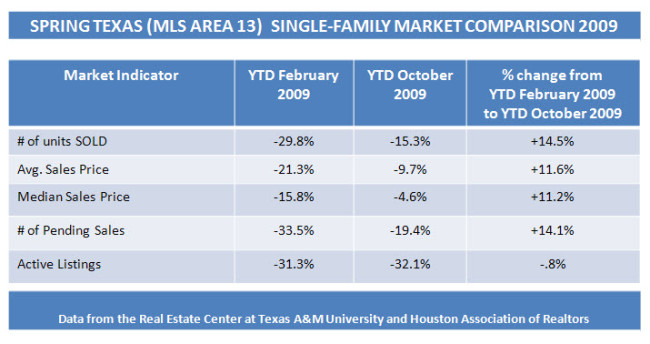 For more numbers, check out the Real Estate Market Reports category.
The data represented is from the Real Estate Center at Texas A&M University and the Houston Association of Realtors MLS for single family existing homes in Area 13. Area 13 covers the geographic boundaries of East – I45 to West – Hwy 249 to South – Beltway 8 to North – Spring Cypress. A good portion of the houses in MLS area 13 have a Spring TX mailing address