When people ask us "Why do we live in Spring Texas?", we usually respond with "How much time to do you have?" So to help people understand why we choose to live here, we came up with a list of our favorite reasons to call Spring Texas "Home".
"TOP 20 Reasons to Live in Spring Texas"
20. The Weather – In the last seven years, it has only snowed twice and then it was gone the same day. We still own winter coats, but only need them a couple of weeks out of the year.  What are the average temperatures for Spring Texas?
19. Location to other major Metropolitan areas – A 3.5 hour drive gets us to San Antonio, Dallas, or Austin for a long weekend, a short vacation, or just a change of scenery.
18. Proximity to Galveston – A 1.5 hour drive gets us to Galveston, TX to board any one of three cruise ships for a four to 13 day cruise to destinations of the Bahamas, Mexico, or Grand Cayman.
17. Professional Sports Teams– Take your pick because we have them all in Houston. Whether it be the Astros Baseball team, the Rockets Basketball team, the Texans Football team, or the Dynamo Soccer team. A 35 – 50 minute drive will have you at the entrance to any of their stadiums.
16. Rodeo – Houston is home to the largest Rodeo in the world. If your idea of Texas is cowboys, cowgirls, hats, boots, and big belt buckles, then you will definitely want to attend the Houston Rodeo. And the Rodeo puts on some fabulous concerts with big name headliners such as Willie Nelson, Chris Young, Brad Paisley, Dierks Bentley, Keith Urban, and Luke Bryan
15. Medical Center – In addition to the excellent medical facilities located in Spring and nearby Woodlands, we have quick access to the Texas Medical Center, the largest medical center in the world. People from all over the world travel to Houston to be treated at the Texas Medical Center.
14. Museums – Pearl Fincher Museum of Fine Arts offers a cultural experience in our own back yard. Plus just a short drive away is the Houston Museum District, one of the top cultural districts in the country. The Houston Museum District consists of 18 museums with 11 of them providing free admission.
13. Performing Arts – Numerous venues are available in the Spring area providing year around opportunities to enjoy the arts. We are also lucky to be so close to downtown Houston that we can regularly attend its performing arts venues. Houston is one of the few U.S. cities that offer world-class resident companies in all of the major performing arts – symphony (Houston Symphony), opera (Houston Grand Opera), drama (Alley Theatre), and ballet (Houston Ballet). Did you know Houston is only second to New York for the number of theater seats?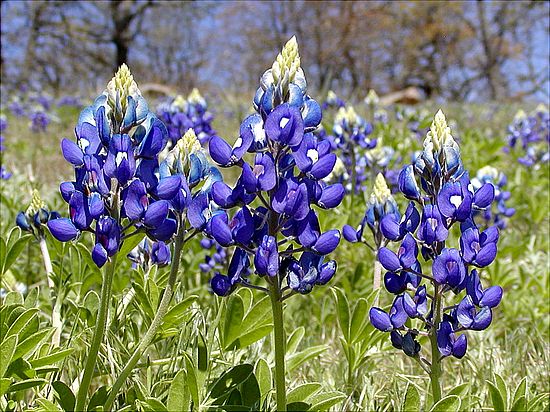 12. Bluebonnets– Oooh … Springtime! The most beautiful time of year in Spring Texas has to be without a doubt Spring. The medians are filled with the State's flower of Blue Bonnets. Take a Sunday drive on the back roads and you will be treated to beautiful views of fields and fields of Blue Bonnets, our state flower.
11. Golf – Make sure you bring your clubs when you are move to Spring Texas. Our mild climate and numerous private and public golf courses in the area give you plenty of opportunities to put your golf skills to the test.
10. Schools – With student to teacher ratios averaging 20 – 25 to 1, your child will receive the individualized attention he or she deserves. The Spring area is known for its award winning, quality education provided by its three independent public school districts of Conroe, Klein, and Spring.
9. Shopping – With three regional malls, two outlet malls, warehouse stores, outdoor malls, and upscale shopping centers in the area, Spring Texas residents have plenty of places to spend their money.
8. Entertainment – Comedy Clubs, Dance Halls, Movie Theaters, Race Park, Amphitheater, and family-friendly entertainment are some of the numerous options available in the Spring Texas area.
7. Cuisine– Yes, this is Texas and we do have good bar-b-que, steaks, and mexican food. But that's not the only type of cuisine that is available. Italian, French, Japanese, Chinese, Vietnamese, and Indian restaurants are located in the Spring area. Houston is the most ethnic diverse city in the U.S. beating out New York City. Whatever you have a craving for, you will find a restaurant serving it up.
6. Airport – The George Bush Intercontinental Airport is a short drive for Spring Texas residents making it convenient for business and pleasure trips alike. The airport currently ranks 3rd in the United States among U.S. airports with scheduled non-stop domestic and international service to over 181 destinations.
5. Parks – Walk your dog, ride your bike, catch a fish, play some baseball or basketball or soccer, do stunts on your skateboard, jog on the trails, sniff the flowers, go tubing down the slides, or just have a picnic. We have several major public parks and water parks in the area. The majority of our Spring Texas subdivisions have their own private parks with some of the parks resembling luxury resort parks.
4. No State Income Tax – We really like this reason and who doesn't like to pay less taxes.
3. People – Can be described using two adjectives Diversified and Friendly. Don't be surprised if when you are driving through our subdivisions people that you have never met before wave and smile at you. Its just how we are.
2. Housing– Do you fancy a Tudor, Mediterranean, Craftsman, French Country, Old World, Traditional, townhome, patio home, lake view or golf course view? The housing options are numerous and AFFORDABLE. Our median home price is 30% below the national average making Spring Texas one of the best places to live. Find out how much house you can get for your money by searching Spring Texas Homes for Sale
1. Lifestyle – We feel fortunate to be able to call Spring Texas home. Because it is here that we are able to enjoy a quality of life that others just dream about. Affordable housing, quality education, entertainment, culture, shopping, dining, ability to reap the benefits of living in close proximity to the major metropolitan city of Houston, and no state income tax all add up to a very comfortable lifestyle.
As you discover Spring Texas for yourself, you will soon understand why the answer to "Why do you live in Spring Texas?" is not a short answer for us. Because it is for so many reasons that we choose to live here.
Read also:
Reach out to Jill Wente, Spring Texas Real Estate Agent at 281.804.8626 with any specific questions about the area I call "Home".