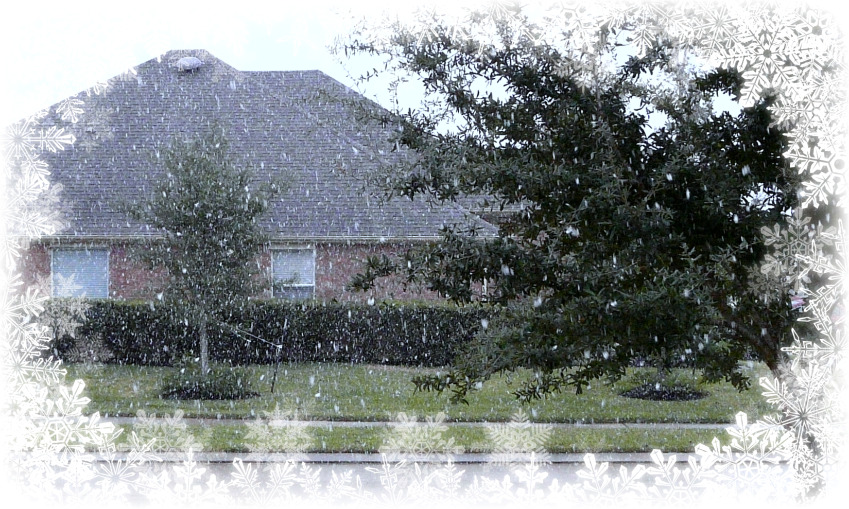 On average it only snows in Spring Texas every 4 years that means anytime we do get snow it is a BIG deal.  Even an outside chance of snow becomes front page news in the Houston Chronicle  newspaper.
Today our weatherman's predictions of snow came true and with it a record was broken.  December 4th, 2009 will now be recorded as the earliest date on which snowfall occurred in Spring Texas. 
All afternoon we were treated to a beautiful scene of snowfall.  At times it was just a few flurries dancing around in the wind and at other times it was so heavy that it reminded me of the many winters I lived through in Illinois.
This evening the snowfall has stopped.  The streets and sidewalks are wet but other than a few remaining snow flakes there is no accumulation.  There is not enough snow to build a fort or have a snow ball fight nor is there enough snow to make a snowman or a snow angel and for many people in Spring Texas I am sure it is a disappointment.  But not for me.  I experienced too many cold and blistery winters growing up in the Midwest and I don't want to experience any more. 
Tomorrow the weather forecast is for a high of 51 degrees, sunshine, and no snow.  Now that's the kind of winter I like and if it nevers snows again in Spring Texas that will be just fine with me.