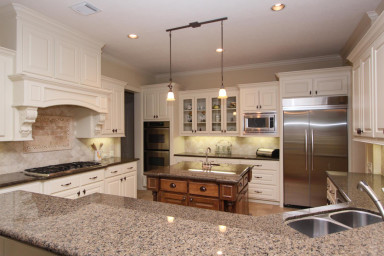 Each year a real estate magazine or a home magazine will publish a new list on what buyers want in a home. If you are thinking about remodeling or getting ready to put your home on the Spring Texas real estate market, then reviewing a list on what today's buyers want is a great way to make sure your decisions will appeal to buyers.
The thing is real estate is local. What buyers want in a home in Miami Beach Florida is not what buyers want in a home in Spring Texas.  The best way to find out what Spring Texas home buyers want is to ask a Spring Texas Realtor.
What are Spring Texas home buyers telling me they want in a home?
Granite kitchen counter tops– Granite has become so popular and ubiquitous that home buyers expect it.  Buyers will do a give on the square footage of a home just to get their granite.  What about solid surface counter tops?  They may be easier to care for and some may even look like granite but buyers still want granite.
Wood and / or tile flooring – Buyers prefer the look of wood and tile flooring. This coupled with a larger percentage of buyers being pet owners (dog, cat, or both), they want a flooring that is durable and easy to keep clean.
Stainless Steel appliances – It is still buyers preferred type of appliances.  What about black and white appliances?  Spring Texas home buyers will consider black appliances but they would prefer NOT to have white appliances.
Brushed nickle fixtures – They have been the favorite for at least the last six years with oil rubbed bronze beginning to grow in popularity.
Dark cabinets – Buyers don't have a strong preference on the type of wood be it maple, cherry, or oak the cabinets are made from but they do prefer a dark stain.
Designer paint colors– Buyers love the light tans, beiges, greens, browns, and blues.
Large closets and lots of storage – Buyers have stuff and they want places to store their stuff.
Spacious master bathroom with a "spa" feeling – A master bathroom spacious enough for two people to get ready in the morning without having to dancing around each other.  Long counter tops with separate vanities or two bowls. A garden or jacuzzi bath tub and a separate shower with nice tile work.
Home office / Study – Even with all the wireless applications available to buyers, they still prefer to have a dedicated place to work.  A place for a desk, printer, and filing cabinet to organize paperwork.
Read also: