Are you relocating to Spring Texas?  If the answer is yes, then here's a list of our favorite iPhone APPs that will help you during your transition.  I just wish they would have been available when we relocated to Spring Texas 10 years ago.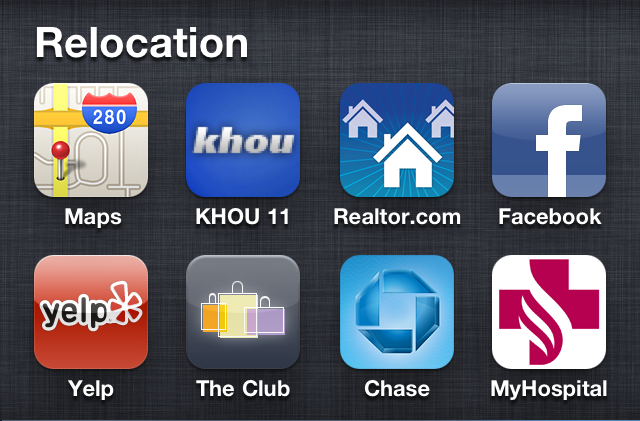 Maps– Spring Texas is pretty easy to navigate around especially once you learn that the main East – West roads are Cypresswood, Louetta, Spring Cypress and FM 2920 and the main North – South roads are I45, Kuykendahl, Stuebner Airline, Champion Forest, and 249. 
You're still going to need a map though and not one of those paper kinds that require you to know Origami in order to fold back up again.
KHOU 11 – Local news, local sports, local traffic, and local weather all in one place. It's a great source for you guessed local information.
Realtor.com – Whether you're looking to rent or to buy, you're going to need a place to live in Spring Texas.  You can find all the available listings on Realtor.com.
Facebook – Your going to want to let your friends know how the move went, how the job's going, and if they live up North or in the Midwest how fabulous the weather is.
Yelp – We have lots of restaurants in Spring Texas. Some of them are fabulous and others are just so – so.  Find out what other diners have to say about a restaurant and its food before you go at Yelp.
The Club– You need some new clothes so you want to go to one of our local malls (Willowbrook and the Woodlands).  Download the mall shopping APP "The Club" and for the location of the malls, hours of operations, store directory, and lay out.
Chase – Need to establish a new bank account?  The Chase APP has a list of all their locations in Spring Texas. Plus you can check your balance and make small check deposits without having to visit a branch.
MyHospital – Not feeling good but you don't know where the hospital is located. Be prepared with the Houston Northwest Medical Center APP. It will guide you to the hospital and give you the Emergency Room wait time which is updated every 5 minutes.
If you need helping finding a home in Spring Texas, give us a call at 281.300.3141 or 281.804.8626.  Rick and I are full-time Realtors with Prudential Gary Greene, Realtors and we would be happy to help you.