Trulia recently released their latest Rent vs. Buy Index for the 50 largest cities. The Rent vs. Buy Index calculates a price-to-rent ratio. The lower the ratio the more affordable it is to buy a home vs renting a home.
Price-to-Rent Ratios of:
1-15:        It's better to own a home in this city as it is less expensive than renting
16 – 20:  Costs of home ownership are greater than the renting
21+:         Renting is less expensive than owning a home in this city
Houston's price-to-rent ratio is 13 making it more affordable to buy a home than rent in Houston. You only need to watch one episode of HGTV's "Selling New York" to realize its cheaper to rent than to buy in New York.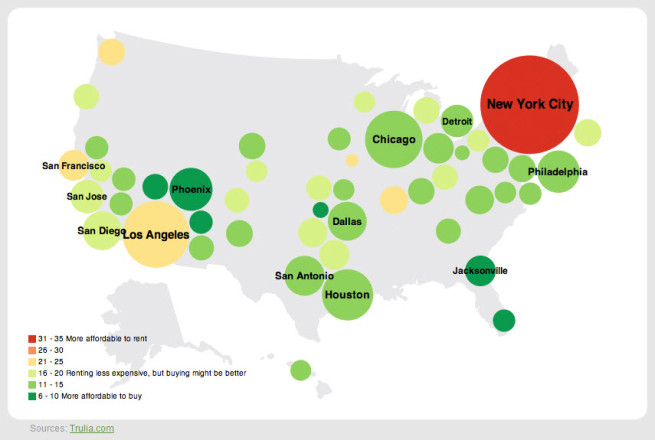 Total costs of homeownership include mortgage principal and interest, real estate taxes, homeowners insurance, closing costs, HOA fees, private mortgage insurance (PMI) and the tax advantages of homeownership.
Read also: