One of the most misunderstood items in the home loan process has to be the pre-approval letter. The pre-approval letter is the letter your Realtor® said you needed to get before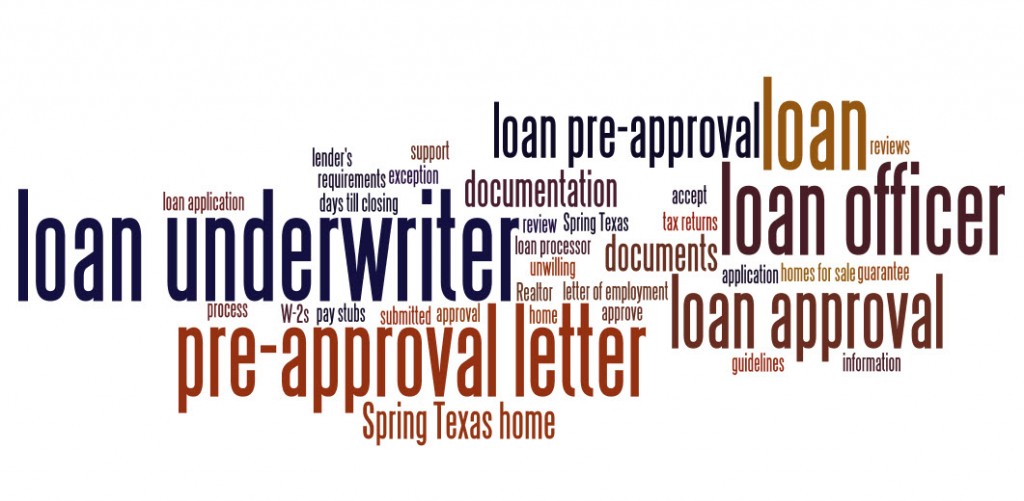 viewing Spring Texas homes for sale.
So away you went and met with a loan officer and got yourself one of those pre-approval letters. You then went out and found the Spring Texas home of your dreams, submitted an offer, got into contract, and now you are counting down the days till closing day. 
You've been pre-approved for the loan so everything's good. Right?? 
The thing about loan pre-approval is it's NOT loan approval.  The loan officer you met with can and does hand out pre-approval letters all day long. But the loan officer is not the person who approves the loan.  The loan underwriter, the person you never meet, is the one who approves the loan.
The loan officer or the loan processor collects documents from you to support the information you provided on your loan application.  These documents which include tax returns, pay stubs, W-2s, and letter of employment are submitted to the loan underwriter for review.  The loan underwriter reviews the documentation and determines if you meet the lender's guidelines for loan approval.
If the loan officer did a thorough job in reviewing your application before providing you a pre-approval letter, the underwriter should be able to approve you for the loan. But loan pre-approval is NOT a guarantee of loan approval. If you are unable to meet the loan underwriter's documentation requirements and the underwriter is unwilling to accept an exception, then you will not receive loan approval. Seems harsh but that's the way it is.
Bottom line: Don't go scheduling movers and ordering address labels for your new Spring Texas home before you have loan approval.
Read also: