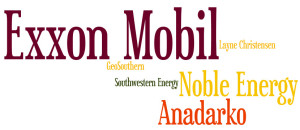 With the recent announcements of numerous oil and gas companies intentions to office in the area, Northwest Houston may soon be known as "The Northern Energy Corridor".
Which oil and gas companies are relocating to Northwest Houston?
Exxon Mobil has their corporate headquarters under construction on 385 acres at I45 and the Hardy Toll Road in Spring Texas. Upon completion in 2015, 10,000 employees will be working at the campus.  Exxon Mobil will be relocating 2,100 employees from their Fairfax, VA and Akron, OH campuses.
Noble Energy will be relocating 700 employees to office buildings at the former HP campus at HWY 249 and Louetta. In addition, they will be constructing a 20-story building (Noble Energy Two) to be completed in 2015. Upon completion of Noble Energy Two, 1,600 employees will working at the campus.
Southwestern Energy is constructing a 10 story building in Springwoods Village in Spring Texas. Upon completion in 2014, Southwestern's 1,000 Houston area employees will be consolidated at their new corporate headquarters.
Anadarko has their second tower under construction in the Woodlands Town Center. Projected to be completed by spring of 2014, the new tower will be 31 stories, a story taller than Anadarko's first tower.
GeoSouthern Energy is relocating 140 employees to Wildwood Corporate Centre in early 2014.  Wildwood Corporate Centre is located south of Sawdust in Spring Texas.
Layne Christensen is relocating 210 employees from its current Mission City, Kansas location to occupy the top two floors of One Hughes Landing. Layne Christensen is projected to take occupancy of the space in September of 2013.
With the projected influx of employees, the Woodlands, Tomball, and Spring Texas real estate markets will all continue to experience increases in home prices and home sales.
Below is a map identifying the locations of the oil and gas companies that are either expanding their presence or relocating into Northwest Houston.
View Northwest Houston – The Northern Energy Corridor in a larger map