You think your Spring Texas home has a homestead exemption but you are not 100% sure.  So how can you easily find out if you have a homestead exemption?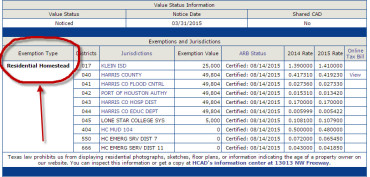 At the Harris County Appraisal District website of www.hcad.org  you can look up your account and see which if any exemptions have been applied to your account.  In the top right corner of www.hcad.org you can search for your account by account number, address or owner name.
After you have located your tax account, you can view your exemptions by looking under the heading of exemption type. Click on the picture for a larger view of what you are looking for.
If you discover that you don't have a homestead exemption, you can discover how to apply for a homestead exemption. If you were eligible for a homestead exemption in prior years but did not file for it, you can get a refund.  The Harris County Appraisal District will refund you the amount of the homestead exemption for the last year.  But only for the last year and no more.
Filing for a homestead exemption is one of the easiest ways to save money on your Spring Texas real estate taxes.
Read also: