There's an APP for that. It seems like an APP exists for almost everything you want to do including filing for a homestead exemption on your Spring Texas home.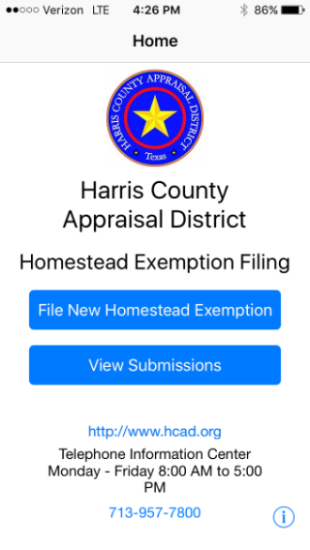 The Harris County Appraisal District's new APP allows you to easily file and then track the status of your homestead exemption. No more printing, filling out, and mailing in the two page form. The new APP makes it a breeze to file for your homestead exemption.
You will need to take a picture of the front and back of your drivers license and the name and address on your license needs to match your HCAD tax account.
You can locate the homestead APP in the Apple Store by searching for Harris County Appraisal District.
If you don't want to download the APP, you can access it's web based version here
You do not need to pay anyone to file a homestead exemption on your Spring Texas home. You can quickly and easily do it yourself.
Read also:
Lower your Spring Texas real estate taxes by filing for the homestead exemption.