All summer long we have been watching with a close eye the construction of Vintage Park. Vintage Park, an upscale shopping center, is under development in Northwest Houston at the corner of Highway 249 and Louetta.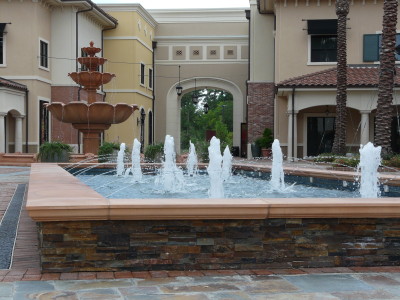 It is being developed on land that was previously owned by Hewlett Packard. It was a forested piece of land which we dearly miss the trees but if in return we receive upscale shopping it just might be worth it. The 84 acre mixed use development is designed as a towncenter. It is reminiscent of an Italian shopping promenade with hand-laid pavers for a cobblestone street effect.
The Piazza will consist of a series of fountains and gardens surrounded by restaurants and covered by an arched portico. A sampling of the tenants signed on are Mia Bella, Shogun, and Brix Cellars. We have heard rumblings of a great steak house being in the mix of tenants but no formal annoucements just yet. Vintage Park will be a great addition to the numerous shopping and dining options available in Spring TX.
Read also: