The Northwest Houston community turned out in droves today for the opening of the HEB grocery store at Vintage Market. I decided I too could not wait until HEB's second day of operation, I had to go and check out the store TODAY.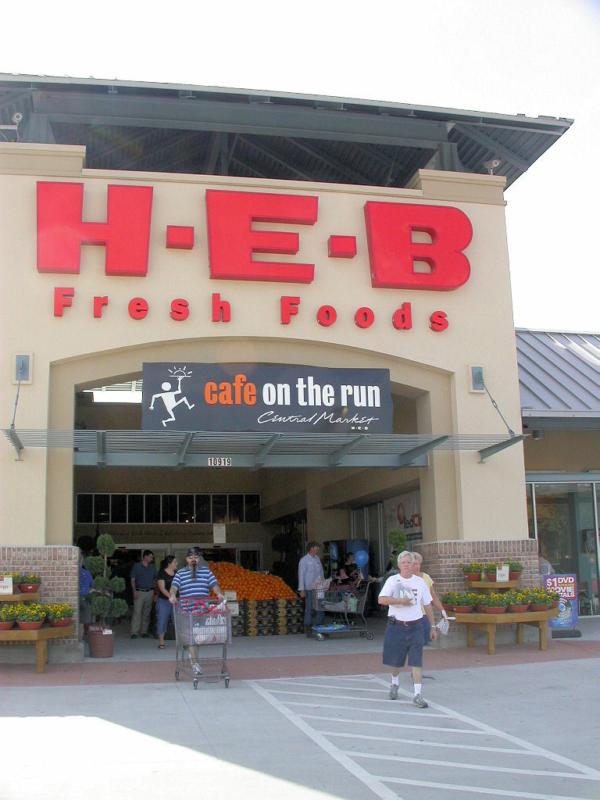 As I stood in line to get into the grocery story at the intersection of 249 and Louetta, I was thinking how weird is this to have to wait in line to get into a grocery store. I can understand waiting in line to check out but not just to get in.
As I entered, the new 112,000 square foot hybrid HEB store I was given a red rose and a store guide. The store guide definitely came in handy as I wandered up and down the aisles.
My first stop was at the Cafe on the Run. The Cafe on the Run has prepared foods such as pistachio crusted tilapia, dips, pastas, chicken, homemade soups, and Dinner for Two. My favorite dip that is available at the Cafe on the Run is the Love Dip. The Love Dip was created by the Chefs at Central Market on Valentine's Day and hence its name. It is a creamy combination of garlic, tomato, cream cheese, and mayonnaise. Dinner for Two is a prepared dinner for two for $13.99. Each day the Chefs at Central Market come up with a new meal so if you are running late and you want a special dinner pick up the Dinner for Two.
My next stop was the artisan bread area. All of the breads are made fresh daily at the store and talk about variety. Not just white and wheat but whole grain, three seed, asiago cheese, cranberry and pistachio, and kalamata olive to name a few. Next to the bread area, they were preparing fresh sushi and sushi rolls. I tried a piece of a spicy sushi roll. I drooled at the many other freshly made sushi rolls and contemplated for a moment purchasing one. But I quickly decided that I had more free sampling to do and off I went.
Next stop on my tour was the fish market. The fish mongers were not throwing fish like they do at Pike's Public Market in Seattle WA but they sure did have a lot of fresh fish for sale. The meaty King Crab Legs that were on sale for $9.99 a pound definitely caught my eye. While I was there, I sampled some very fresh crab meat that was utterly delicious.
Next stop on my culinary tour was the speciality cheese area that boasts over 400 different kinds of cheeses. Now I wasn't ready to take on the task of sampling all 400 cheeses, but I knew I could handle sampling at least eight or so. And sample I did the fontina, the brie and artichoke, blue, cheddar, parma reggiano, and provolone.
By this time I was getting rather full but I felt it was my duty to continue to explore the newest grocery store in Northwest Houston. So I continued onward to the delicatessen area where I sampled black forest ham and salami. Both were delicious and I made a mental note to my self to return in a couple of weeks and pick up some cold meats for a holiday party.
There was still more to explore at the HEB in Vintage Market such as the Cooking Connection, the Coffee Roasting area, the Produce area with over 17 varieties of apples, and the healthy living area. But I will have to explore these areas another day because I had to go show a house to a client.
All I can say is Welcome HEB to Vintage Market. The residents of Spring TX and Northwest Houston are excited to have you in our community. As for me I will be back to shop and explore your store another day because today I am too full on your free samples.
The store is open daily from 6 am to 12 am and the store phone is 281.257.4600.
Read also: