Kent Rathburn, the chef at Jasper's in the Woodlands, Texas, has just completed one of the most stressful shows of his life. The local chef recently competed in the Iron Chef America program on the Food Network.In the ever popular, Iron Chef program, world class chefs battle the legendary Iron Chefs of America: Bobby Flay, Mario Batali, Masaharu Morimoto and Cat Cora.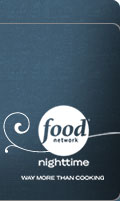 Its all hush, hush on which Iron Chef Mr. Rathburn chose to compete against, what the secret ingredient was, and who was the winner of the competition. We will just have to tune in for the airing of the program at 8 pm CST on February 24th to find out "Whose cuisine reigns supreme".
Jasper's, which describes its cuisine as Gourmet Backyard, is hosting several events in conjunction with the airing of the program. On February 24th, Jasper's will be hosting a "watch" party in the restaurant's bar, located at 9595 Six Pines Drive. Attendees can sample complimentary hors d'oeuvres.
For the ultimate dining experience tie-in for the airing of the Iron Chef America program, consider making reservations for a six-course dinner on February 25th at 6:30 pm. The dinner will be hosted by Chef Kent Rathburn, Randy Woolridge of Quintessa and Steve Raszkin of Silver Oak. Diners will feast on dishes featured on the program. The price is $125 per person plus tax and 20% gratuity.
Reservations can be made be contacting Donna Tanner at 866.953.3111 or [email protected].
And the winner is…….
I was not able to catch the original airing but I was fortunate enough to catch a later airing of the program. Now for the details and results on the battle between Kent Rathburn and his brother Kevin against the Iron Chef:
Iron Chef: Bobby Flay
Secret Ingredient: Elk
Both competitors prepared 5 dishes. Bobby Flay's dishes were 1) Elk with mint, carrots, and haberno 2) Elk osco bucco with tomatoes 3) Texas style elk burger with barbecue sauce 4) Spice crusted elk tenderloin with a gratin of cheese and quail egg and 5) Elk rib-eye with fig sauce, tomatoes, and chili.
The Rathburn brothers dishes were 1) Elk carpaccio with peaches 2) Seared medium rare chili rubbed elk tenderloin with sweet potatoes and queso 3) Elk meatballs with cabbage and sage 4) Fajita marinated elk loin and 5) Manchego gougeres stuffed elk liver.
Winner: Kent Rathburn and his brother Kevin beat Bobby Flay with a score of 50 to 46. They tied on presentation and originality and won in the taste category. Congratulations Rathburn brothers!