2008 – The year of the Mustang? I know you probably thought it was the year of the Rat. Well its both the year of the Rat and the year of the Mustang. At least it is in Houston Texas.
At the end of February, a herd of 28 hand-painted mustangs will go on display to celebrate the Houston Livestock Show and Rodeo. The majority of the horses will be on display at the rodeo, but a select few will be roaming the streets of downtown Houston. After the rodeo is over, the mustangs will make their way back to their owners. Many of them will later be auctioned off for charity or put on display in business lobbies.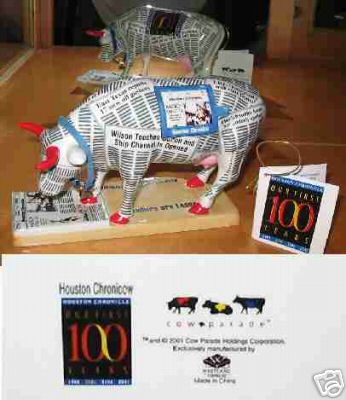 This is not the first time that larger than life hand-painted items were displayed around the city. Last year in conjunction with the Houston Livestock Show and Rodeo, 85 six-foot high cowboy boots were on display.
In 2001, Houston sponsored its first cow parade. Our city was inundated with 300 fiberglass cows. It seemed like they were everywhere. The Houston Chronicle, our local newspaper, even got in on the fun and gave away miniature versions of the cows. I was lucky enough to get one of the miniature versions.
Months later when I was in a major decluttering mode I put the cow up for auction on eBay. And you know what that little cow brought me $180. It wasn't my first experience selling on eBay but it was the first time I ever sold a cow.
Personally I liked the cows better than the boots because I thought that the designs on the cows were more creative than the boots.