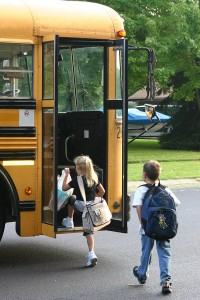 Its August and in about another week its time for Spring Texas schools to start up again. If you are like me, you are thinking …… already? Where did the summer go? Its still HOT enough to be summer but the calendar says its time for the kids to go back to school.
The kids living in Spring Texas attend schools in either the Conroe School District, Klein School District, or Spring School District. All of these schools have web sites that are packed with the information you need including school hours, location and phone numbers, and bus schedules.
After that first time you wait in the horrendously long line to drop your kids off at school, you might all of sudden decide having your kids ride the bus to school sounds like a pretty good idea. No joke about the horrendously long lines. Maybe one of these days I will take a picture to share with you.
No matter whether your kids rode the bus last year or they will be riding the bus for the first year, its a good idea to check the bus schedules. Its best not to count on them to be the same schedule from year to year.
Conroe School District Bus Schedules, Klein School District Bus Schedules, and Spring School District Bus Schedules. We hope your kids excel this school year and enjoy the friendships made while riding the bus to their Spring Texas Schools.
If a new Spring Texas Homes is in your future, please give us a call at 281.804.8626 and we would be happy to help you find the right house for you and your family to call "home".
Read also: