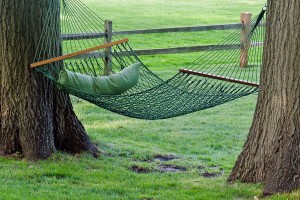 If you are thinking about putting your house on the Spring Texas real estate market there is something you should know.  Buyers are Lazy.  Blame it on the success of HGTV or the beautifully decorated model homes of the builders or simply a busy lifestyle because any of them will do for a reason as to why buyers are lazy.
If you are wanting a quick sale, don't offer the buyers a painting allowance, a carpet allowance, a decorating allowance, nor a repair allowance because they don't want any of those things.  What buyers do want is for the sellers to paint the rooms, replace the carpet, remove the wallpaper, and fix the wood rot.
Buyers want a Spring Texas house that only requires them to do one thing and that is for them to unpack their hammock and relax.
Read also: