Have you been wondering when the new HEB at FM 2920 and Spring Cypress is going to open just like Rick and I have been?  Well the suspense but not the wait is over.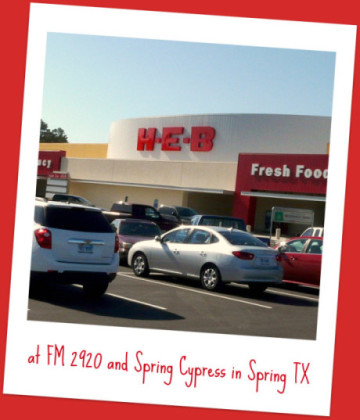 On our way home from Chuy's last night, we cruised the HEB parking lot and asked an HEB employee with the first name of Michael when the store was scheduled to open.  The answer … drum roll, please  ….  November 11th, 2009.
You may be saying what's the big deal about the opening of a new HEB store?  Its only a grocery store. You are right it is only a grocery store but it is a grocery store I shop at frequently because it has excellent produce, meat, and prepared foods and it is also about the additional convenience it will bring.
Currently the closest HEB to my house in Spring Texas is 15 minutes away.  The HEB at FM2920 and Spring Cypress will be 5 minutes away.   Ten minutes each way means I will be able to get my weekly grocery shopping, which I don't like doing , done 20 minutes sooner.  Yea!!
November 11th can not arrive soon enough for me because I am not very good at waiting.  I have already had to wait during the 5+ months of construction while the HEB store was being built and that is long enough for someone who hates waiting.  Hopefully the days will go by quickly between now and November 11th.