Our pick for the best place to view Christmas Lights in Northwest Houston is without a doubt the Prestonwood Forest subdivision. Known as the "Christmas Lights Neighborhood", its continuation of a 31+ year tradition has become legendary.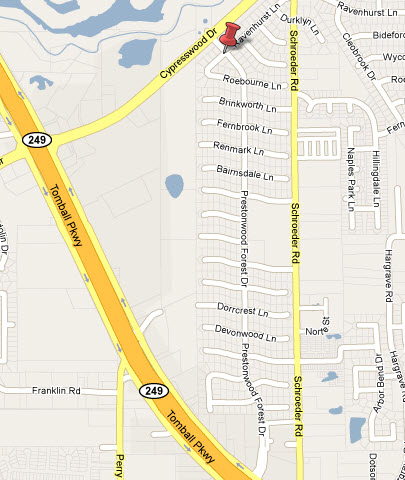 Local newspapers and television stations, Southern Living , FOX News, and the Travel Channel  have all written stories about or done programs on the Christmas lights adorning the homes in Prestonwood Forest.
Just about every home in the Prestonwood Forest subdivision of 750 homes gets involved in the Nite of Lites event. With almost every block in the subdivision choosing a different holiday theme. One of the themes is based on "The Night Before Christmas" in which each home on the block displays a page of the story.
The subdivision hands out awards for "Best House", "Best Block", "Runner-up Block", "Best Mailbox", "Best Door", and "Best Lamp Post"
Estimations are around 15,000 people drive through Prestonwood Forest and view the Christmas decorations and lights display during the Nite of Lites event.
The 2009 Nite of Lites begins on December 12th and continues through January 3rd. The homes lights are on Monday – Friday 6 pm to 10 pm and Saturday – Sunday 6 pm to 11 pm.
The Prestonwood Forest subdivision is located South of Cypresswood about 2 miles East of HWY 249.  If you need better directions, just click on the map.
The residents of Prestonwood Forest take their Nite of Lites event serious. So serious ….. that included in the sale of their homes are the Christmas decorations.