Choosing the right agent to help you sell your home takes research. It is not as simple as choosing the real estate agent whose son is on your son's soccer team.
The right agent will provide you with a smoother real estate transaction and get you more money for what may be your largest financial investment … your home.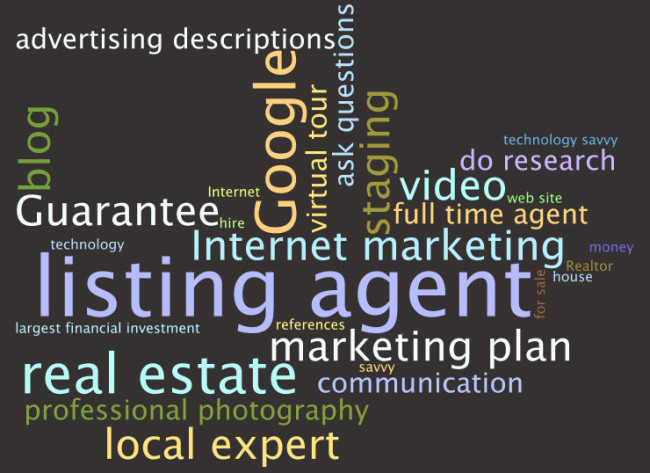 Do your research –
Visit the agent's web site – Some real estate agents do not have their own web site. They only have a page on their broker's web site. Home buyers are tech savvy. If your listing agent is not leveraging technology, it is a safe bet that home buyers are not going to be exposed to your home's listing.
Does the agent have a blog? One of the quickest ways to get to know a real estate agent is by reading what he or she has written. Do you like what she says? Is the information useful? Does she seem knowledgeable?
Check out the agent's other listings? Does the agent's listings have quality, professional photos? Do they have a virtual tour? Are there advertising descriptions of the photos? Think as if you were a home buyer. Does the agent's listings get you excited and want you to immediately make an appointment to view the home? Checking out the agent's other listings is a great way for you to envision how your listing will look.
Go googling – If you were a Spring Texas home buyer what search terms would you google to find homes for sale? Maybe "Spring Texas homes for sale" or "Spring Texas real estate" or "Spring Texas subdivisions" or even the name of the subdivision you live in. Does the real estate agent's web site or blog site show up in the top 10 or even top 20 search results? If it doesn't show up in search results, how are potential home buyers going to find your home?
Check the agent's response time – Email the agent or text the agent to see how quickly he or she responds. A slow response time means a potential loss of a buyer for your house. The agent's response time is also the response time you can should expect when you are working with him or her.
Ask the agent questions –
Are you a full-time agent? Is the agent working in real estate to earn a few extra dollars or does the agent rely on real estate to earn a living? Full-time agents are more motivated than part-time agents because they know if their listings do not sell they do not eat. Another advantage of hiring a full-time agent is the agent will have a better handle on the local market conditions, financing, and laws.
What is your marketing plan? The agent's marketing plan should be more than placing a "For Sale" sign in your yard and praying it sells. Over 90% of buyers use the Internet to search homes for sale. How is the agent going to reach the buyers?
Do you help me stage my home? Will the agent help you stage your home so it shows the best it possibly can? Or are you left to watching HGTV and trying to figure out for yourself what to do?
Do you provide a guarantee? Does the agent provide a service guarantee? Will the agent let you out of the listing agreement before the end of the term if he or she is not performing as promised?
Do you have any references? Call the agent's references and find out if they would use the agent to list their home in the future.
How often who will I hear from you? Will the agent be providing you with personal service or will all of your communication be with someone on their staff who you have never met? Will the agent be communicating with you on a regular basis or only when he or she has an offer to present you with? Make sure your communication preference and the agent's are the same.
Choosing the right real estate agent to be your listing agent takes time. Do your research and ask questions and you will discover the best agent for you.
Read also: