Did you know that since its launch in 2007 over 200 million iPhones have been sold? What does the millions of iPhone users have to do with the listing of your Spring Texas house? A lot.
The percentage of home buyers using the Internet to search for Spring Texas homes for sale has been steadily increasing over the years. According to the 2010 NAR survey over 99% of home buyers are using the Internet to search for homes. 99% is huge which is why it's important your Realtor's marketing plan has a heavy emphasis on Internet marketing. But what does the Internet have to do with iPhones?
The # 1 most frequented Internet website for real estate is Realtor.com. Realtor.com has developed an application or APP for the iPhone that allows home buyers to search for real estate listings on their phone. Realtor.com displays the real estate listings on the iPhone APP similar to the way they display them on their website. If your Realtor does not pay for what is called "Showcase Listings", your home's listing will only have 4 photos. But if your Realtor does pay for additional marketing exposure on Realtor.com, your listing will have 16+ photos.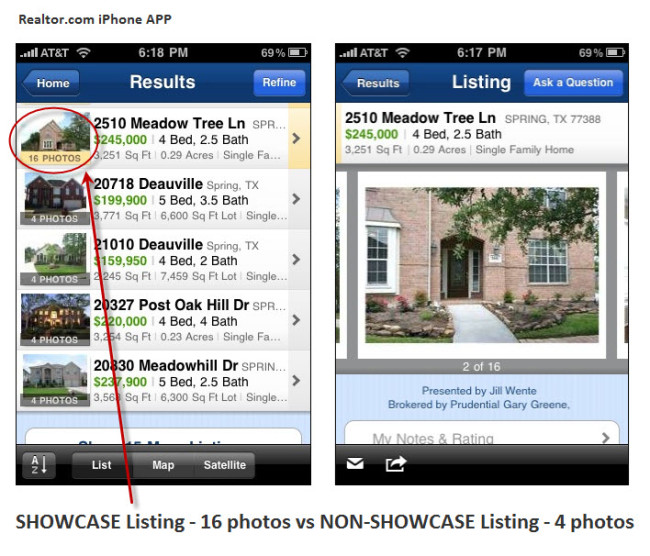 To the right are a couple of screen shots of the Realtor.com iPhone APP . The circled listing is one of the homes I am currently marketing. It along with all of my other listings are "Showcase Listings".
Click on the photo for a larger view of the Realtor.com iPhone APP for real estate listings.
The bottom line is home buyers are using their iPhones to search for Spring Texas homes for sale. If you want your home to capture their attention, your listing needs to be a "Showcase Listing".
UPDATE – By the end of 2011, the Realtor.com APP was downloaded to over 7 million iPhones, iPads and Droid phones, making it the most downloaded real estate search application.
Read also: