At its last monthly board meeting, the Klein school district approved the new design for Klein High School. Klein High School with an average enrollment of 3,300+ students is one of five high schools in the Klein school district.
The new Klein High School will be four stories and will be located at the corner of Louetta and Stuebner Airline in Spring Texas. The entrance to the new Klein High School will be off of Stuebner Airline and will include a drop off loop.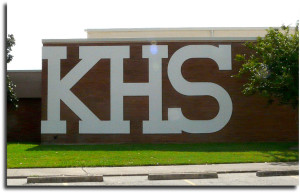 The first floor of the high school will house the administration offices, auditorium, fine arts, media center, cafeteria, kitchen and a courtyard facing Stuebner Airline. Gymnasiums will be located on the second floor with classrooms being located on the second, third, and fourth floor.
Construction of the new Klein High School is slated to begin in early 2011 and has an estimated completion date of July 2013.
The photo to the right is of the current Klein High School. Floor plans, exterior and interior renderings of the new Klein High School are available for viewing by accessing … Klein High School design renderings.