Before you head out to the Woodlands Mall or the Willowbrook Mall this holiday season, you will want to download their new mobile shopping app called, "The Club Shopping Mall". The shopping app which is available on the iPhone and Android lists sales, real-time navigation of the mall, and games.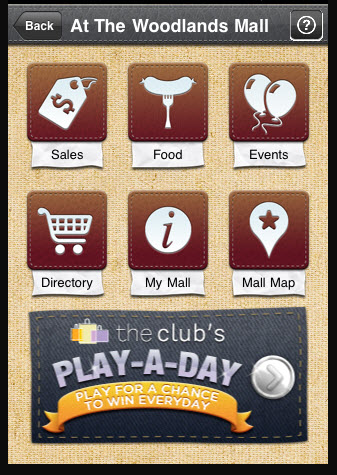 I downloaded the app on my iPhone and took it for a test spin. Since I frequently hunt down the mall's directory, I found the mall maps to be most useful. Now I can easily access the app on my phone and quickly locate the store I want.
The food section of the app shows the available food options and their locations in the mall. This comes in handy when you are wanting to locate the closest Auntie Anne's to satisfy a pretzel craving.
I even played the club's play-a-day game and shook the snow globe. I didn't win an instant prize but I was entered into their sweepstakes for a $500 mall gift card.
The shopping app also informed me of a Black Friday event I was unaware of. If you spend $100 on November 26th at the Woodlands Mall and you bring your receipts to the Customer Service Center, you will receive a $10 mall gift card.
I give the "Club Shopping Mall" app a thumbs up and will definitely be using it on my next trip to the Woodlands Mall and the Willowbrook Mall.
Video: Discover the shopping malls and centers in the Spring Texas area.