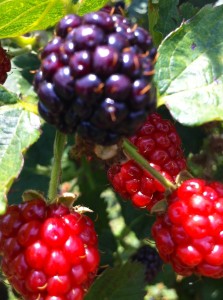 Last Sunday on my way home from showing homes in the Woodlands, I stopped off at Neal's Berry Market to check on this year's crop of blackberries. With the rain we've had this year I was hoping the crop was going to better than last year's small crop.
According to the Neals', they are experiencing a bumper crop of blackberries. In the just first 10 days of picking, 2,250 lbs of blackberries have been picked. The berries continue to ripen every day and should be available for about another month.
The best days to pick blackberries are on Wednesdays and Thursdays before the weekend crowds.
If you are a lover of blackberries head on over to Neal's Berry Farm & Farmer's Market to pick your own bucket full. Neal's Berry Farm is located at 24527 ½ Gosling Road Spring Texas 77389. Their hours of operation are Monday – Saturday from 10 am to 6 pm and on Sundays from 10 am to 2 pm.
Neal's Berry Farm also has a Farmer's Market so you can pick out some fresh produce after you have snagged the plumpiest berries.
Here's a list of other … Farmer Markets and Produce stands in Spring Texas. One of the best things about Summer is fresh from the farm produce.