Below is a list of businesses in the Spring Texas area providing free or discounted services to Veterans and / or Military personnel in celebration of Veterans Day 2012: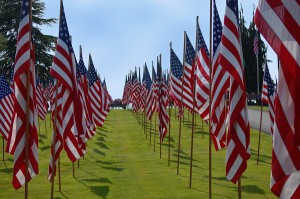 Bar Louie – Free Lunch or Dinner up to $11 on November 11th or 12th. Show proof of military service.
Hooters – 10 Free Wings on November 11th with drink purchase. Must present military id or proof of service.
Golden Corral – Appreciation Dinner on Monday, November 12th from 4 – 9 pm for anyone who has ever served in the U.S. Military. Last Veteran's Day, Golden Corral served a free dinner buffet to over 375,000 veterans and active military personnel.
Olive Garden– Free entree of Seafood Alfredo, Chicken Parmigiana, Grilled Sausage & Peppers Rustica, Cheese Ravioli or Spaghetti with Meat Sauce to all active Military and Veterans on November 11th during regular business hours. Must present proof of service.
Outback Steakhouse – Free Bloomin' Onion and a Coke November 11th – 12th. Proof of service required.
Pappasitos – Free appetizer with purchase of an entree on November 11th. Present military ID to the server. Some exclusions apply on the appetizer.
Red Robin – Free Red's Tavern Burger and Bottomless Steak Fries on November 12th. Must show Military I.D. or be in uniform.
Texas Roadhouse – A choice of 10 free lunch entrees and a drink on November 12th from 11 am – 2 pm. Must present proof of service.
T.G.I.Fridays – Free lunch on November 12th from 11 – 2 pm. You will need to either wear your military uniform or present proof of service.
Chili's – Free lunch from 11 am to 5 pm for Veterans on November 11th. Choose between any lunch combo, Margarita Chicken, Turkey Sandwich, Oldtimer with Cheese, Cajun Chicken Pasta, Chicken Crispers, or a Grilled Chicken Salad. Proof of service required.
Bubbles Express – Free car wash on Monday, November 12th for all Veterans and military personnel. No proof of service required.
If you know of a Spring Texas area business that is offering a discounted or free service to the armed forces, please email us so we can share the savings