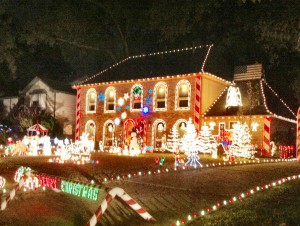 Prestonwood Forest – The best neighborhood display of Christmas lights and holiday cheer can be found in Prestonwood Forest.  This will be the Northwest Houston neighborhood's 37th year of holding their popular Nite of Lites festival. Pack the kiddos in the car and get ready to ooh and aah.  The Nite of Lites festival starts on December 8th and ends on December 30th.  The houses start to shine at 6 pm nightly and its lights out at 10 pm Monday thru Thursday and at 11 pm Friday thru Sunday. Map of Prestonwood Forest and winners of the 2012 Nite of Lites festival
Donoho's Jewellers Winter Wonderland – Located at the northeast corner of Lake Robbins and Six Pines Drive, the illuminated holiday scenes are FREE to view and open daily from dusk until 11 pm from November 17th – January 21st, 2013.
Fountains at Waterway Square – From November 17th – January 2, 2103, the colorful fountains will be choreographed to the classic holiday songs of Frosty the Snowman, Jingle Bells, Feliz Navidad, Winter Wonderland, Christmas Eve, Wizards in Winter and one of my favorites, the Most Wonderful Time of the Year. The fountains will perform every 15 minutes Monday – Friday from noon to 2 pm and again from 6 to 11 pm.  On Saturdays and Sundays the fountains will perform every 15 minutes from noon to 11 pm.
Holdman display at Northwest Dodge – You may not have heard of Richard Holdman but his Christmas light shows have become a YouTube sensation with his 2009 display set to the tune of "Amazing Grace" garnering over 21 million views. This year Holdman and his crew were hired by Northwest Dodge to create a light display at their dealership at 19616 Northwest Freeway in Houston.  Clearly visible from U.S. 290 the light show of over 70,000 LED lights is programmed to 10 songs. This YouTube video showcases the light display programed to "Walking in a Winter Wonderland". The display is available for viewing through New Year's.
The photo to the right was taken during the 2011 Nite of Lites in Prestonwood Forest.