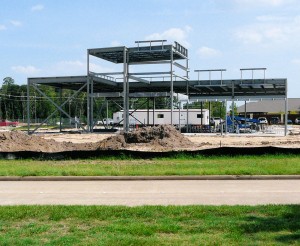 Vintage Park at HWY 249 and Louetta has been attracting some new and noteworthy tenants.  Alamo Draughthouse and Zoe's Kitchen both opened their doors for business in 2013.  Whole Foods is looking to make its debut at Cutten and Louetta in 2014. Black Walnut Cafe is under construction at 10623 Louetta Rd which is bound to draw hungry diners from the HP and Noble Energy campuses.
The walls are just going up on the Black Walnut Cafe in Vintage Park so it will be several months before we will get to enjoy their Bacon Cheeseburger Eggs Benedict or their Asian tuna salad.  In the meantime, you can catch their twice daily Monday – Friday happy hours at their Woodlands location at 2520 Research Forest Drive.
Whether you live on the east side or the west side of Spring Texas it will only be a short drive to a Black Walnut Cafe.