If you are thinking of moving to Spring Texas there are things you need to know.
10 Things you need to know before moving to Spring Texas:
1.  No Downtown. Spring Texas is a U.S. Census designated place located in an unincorporated area in Harris County and Montgomery County. There is no actual city of Spring and there are no city services. Fire, emergency, and police services are provided by the county.  We do have Old Town Spring which is a quaint area of 200 shops but it is not what you would expect a downtown area of a city to be.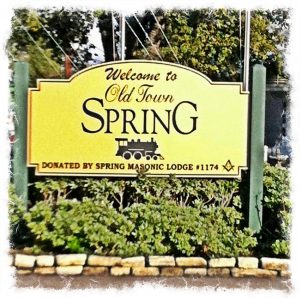 2.  Our areas blend together.  Where Houston TX ends Spring TX begins. And without a "Welcome to Spring Texas" sign, you will never know that you just left one city and entered another. The blending of areas together hold true for other areas too as where Spring TX ends either Cypress, Tomball, the Woodlands, or Humble begins. Which city Spring Texas blends into depends upon which direction you are headed.
3.  No state income tax. Texas is one of seven states that do not have a state income tax. Since we do not have a state income tax, our Spring Texas schools are funded by local real estate taxes. So in comparison to other states, Texas real estate tax rates are high. Read this article on "How to reduce your Spring Texas real estate taxes"
4.  Home prices 20% to 30% below national home prices. Balanced supply and demand coupled with lower construction costs makes the Spring Texas real estate market extremely attractive. Your housing dollar will stretch farther and you will be amazed with the lifestyle you can afford.
5.  No Zoning Laws. Anything can and has been built to anything else. What your home backs up to, fronts, or sides, impacts your home's resale value. Just because you did not mind that your home backed up to an apartment complex or a water storage tank is no guarantee future buyers will have the same opinion. Vacant land will be developed into highest and best use.
6.  Best Food. Yes, just about every city claims to have the best food but Spring Texas and its surrounding areas really does. Houston is the most ethnic diverse city in the U.S. beating out New York. Located 25 miles from downtown Houston, Spring Texas could be considered a suburb of Houston Texas. We have more than just great BBQ and Mexican food. With the diverse ethnicity comes a smorgasbord of ethnic restaurants. We have some of the best Thai, Japanese, Italian, TexMex, authentic Mexican, Greek, Indian, Mediterranean, and Southern comfort food that you will ever put in your mouth. Some of the best and most delicious food is being created in the food trucks.
7.  Fire Ants.  You will always remember your first encounter with fire ants. Because within minutes of your stepping on a fire ant mound, the stinging and itching sensation caused by these pesky ants will have you saying words that shouldn't be said out loud. Applying Over n Out to your lawn twice a year and spot treating the fire ant mounds that pop up overnight will have you in control of the fire ants
8. Lawn maintenance season goes on and on and on.  Starting in March and continuing through November,  we are whacking weeds, edging, and mowing our lawns. If lawn maintenance is not for you, lawn service companies will gladly do it for you for about $30 a week.
9.  A swimming pool for almost every neighborhood.  No need to join the local YMCA or pay for a season pass to a waterpark with the majority of Spring Texas neighborhoods having their own community swimming pool. The swimming pools range from basic to Olympic sized pools, with water slides, wading pool, and splash pads approaching the size of a small waterpark. The newer and larger neighborhoods have neighborhood pools that rival top resorts.
10.  Good deodorant is a MUST.  Our summers are long and HUMID and the best way to make it through them is with a good deodorant. Your first summer will be the roughest. But as your body becomes more accustomed to our climate each passing year will be a little easier on you.
Looking for a complete resource for Spring Texas real estate information?  You have found it. Have additional questions?  Just Ask a Spring Texas Real Estate Agent.
Read also: