Whether you are just coming to visit or you have made your home in Spring TX, a place you will want to discover is Mercer Arboretum & Botanic Gardens. It is located between 1960 and Cypresswood and Aldine Westfield a short 10 minute drive off of I45.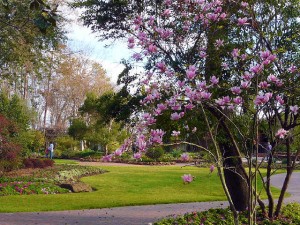 I discovered the Mercer Arboretum a couple of years ago. My parents were coming to visit me in Spring TX and I needed to find some points of interest that were close by. Since my father is a Master Gardener, I knew anyplace that had a lot of gardens would certainly be a place he would enjoy. Mercer Arboretum has a picnic table, trail, and playground just across the street from the entrance. We packed a lunch and had a peaceful picnic underneath the trees.
After lunch we proceeded across the street to enjoy the Botanic Gardens. Much to our surprise, there was no entrance fee. It was Free! The Botanic Gardens encompasses over 20 acres of developed gardens, including herb, ginger, day lily, color displays, and extensive walking trails. We walked the paths and then sat down on one of the numerous benches through out the gardens and just took in the scenery. We had a wonderful time and at the end of day I walked away with some inspirations for my own garden in Spring TX.
The Mercer Arboretum & Botanic Gardens is a place not to miss. In addition to strolling the gardens at your own pace, they also have planned events that are sure to help you become a better gardener. The details on their events can be found at www.hcp4.net/mercer
Read also: