One of the bad things about growth is that sooner or later we are going to have to pay for its impact on our infrastructure. And pay we do, usually in the form of increased taxes. Over the last four years, our Klein school district has experienced growth. Growth of more than 16% or 6,000 students. Thus the need for another school bond election. If it passes, its projected to increase real estate taxes for Spring Texas homeowners by $0.20.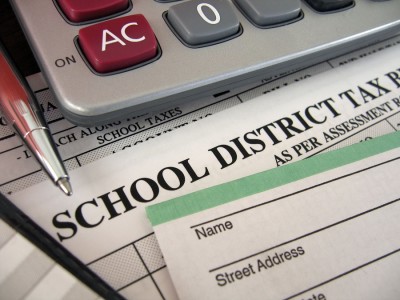 If you are like thinking, it wasn't that long ago since Klein school district had their last bond election. You are right. Their last bond election was in 2004 for $224 million. It was projected to increase real estate taxes by $0.26 but luckily only reached $0.22. If you are not familiar with the components of our Texas property taxes, read Texas Property Taxes Why are they so HIGH?
What exactly is a school bond and why do we need it?
A school bond which is sometimes called a municipal bond is a document that obligates the school district to repay borrowed money on a given maturity date and to pay interest semi-annually at a rate set at the date of sale to the bondholder.
The Klein school district needs a school bond to fund its capital improvements to support the projected increase in its student population. The 2008 bond plan includes $345.9 million for growth, $256.7 million for renovations, $38.2 million for technology, and $6.1 million for safety/security for a total of $646.9 million.
The funds earmarked for growth will provide for the construction of three elementary schools, one Early Learning Pre-K Center, two intermediate schools, one high school, and classroom additions for both Klein Oak High School and Klein Collins High School.
On May 10th, Spring Texas residents in the Klein Independent School District will cast their vote in the Klein ISD bond election. If the bond passes, real estate taxes will increase by $0.20 over the next four years.
A small consolation is that due to the recent school property tax reform, the projected increase in our school property tax rate will still be LOWER than it was in the 2005 – 2006 school years.
But its not just Klein school district with a bond election. Residents in the Conroe and Humble school districts will also be voting on a bond election on May 10th.
The Conroe school district is seeking approval of a $527 million dollar bond that includes the construction of seven new schools and major additions and renovations to existing campuses. New campuses are needed to house the projected increase of 23,000 students in the next decade. The bond is projected to increase the real estate taxes of Conroe school district home owners by $0.10.
The Humble school district is seeking approval for a $245 million dollar bond that includes the construction of three new schools, the purchase of land for future campuses, an overhaul of the district's football stadium, and a new police station. The projected impact on the pocket books of Humble school district homeowners is $0.08.
Read also: