Last night, Tim Novak, Executive Director of the Pearl Fincher Museum of Fine Arts, hosted Prudential Gary Greene, Realtors "Night at the Museum". Approximately 30 of my fellow Realtors and myself took advantage of a wonderful opportunity to learn about the ONLY Fine Arts Museum outside of the Houston Museum District.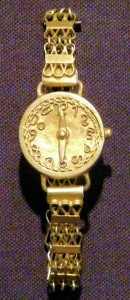 The Pearl Fincher Museum which officially opened its doors on March 29th, 2008 is located in a 10,000 square foot facility that previously housed the Harris County Cypress Creek Library. The Museum's current exhibit on loan from the Houston Museum of Fine Arts is African Gold from the Glassell Collection.
The exhibit which runs through November 2nd consists of objects made by Akan artists living in Ghana and neighboring Cote d'Ivorie. Ghana was once known as the Gold Coast and gold was used as a basis for trade. The works of art in the exhibit date back to the 19th and 20th centuries.
One of my favorite pieces was the bracelets that the Akan artists produced in the shape of watches for decorative rather than functional purposes. They were worn by men and women and displayed wealth and symbolized the power to control time.
The idea that someone thought they could actually control time amazed me because I gave up on the notion that I could control time a long time ago.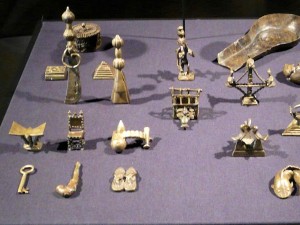 My next favorite collection of the exhibit were these weights. They are brass castings used as counter – balances for weighing gold. I have always been intrigued with items used in the exchange of goods and the currency of other nations.
The exhibit contains numerous collections and excellent descriptions on the pieces and their importance to the people in Ghana.
The Museum's entrance fee for the exhibit is only $3. Where else can you get this level of entertainment for this price? After all it costs more than $3 to rent a movie these days.
Thank you, Tim Novack for hosting our "Night at the Museum". The Pearl is a "top notch" Fine Arts Museum which we are lucky to have rght in our own Spring Texas backyard.
Will I be back for another visit? ….. Absolutely!!! When? …. Sometime between November 22, 2008 and March 29, 2008. During those dates is when the Museum's next exhibit of 17th and 18th Century Paintings from the Sarah Campbell Balffer Foundation will be on display. And I truly enjoy viewing European paintings.
But don't you wait for a formal invite to visit the Museum. Go now and discover for yourself the Pearl Museum. It is ……. a real "Jewel".
The museum is located at 6815 Cypresswood Drive Spring Texas. To learn about the museum's hours of operations and its upcoming exhibits visit the Pearl Fincher Museum of Fine Arts website.
Read also: