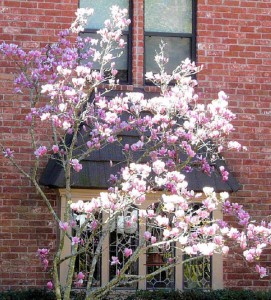 Is it Spring yet?  Has it arrived yet?  The calendar says today is February 7th and Spring does not officially start until March 20th. So no, not Spring yet.
And Phil, the famous ground hog, saw his shadow and with it is predicting six more weeks of winter. So no, not Spring yet.
But the beautiful display of color put on by this Japanese Tulip tree tells me Spring will soon be here. And soon the dogwood trees will be in bloom, and then the azaleas, and then our state flower, the bluebonnet.
Oh how I love Spring!, except when its raining.
Read also:
Photo was taken at a home located in the Champion Forest subdivision in Spring Texas.