As I pulled into the parking lot to attend the opening of HEB's Spring Market, I suddenly realized I was not alone.  Apparently my Spring Texas neighbors were just as anxious as I was to shop at HEB's newest store.  For a brief moment, I thought about turning around and going back home.  But the moment quickly passed because after 7+ months of watching the construction I needed to satisfy my curiosity.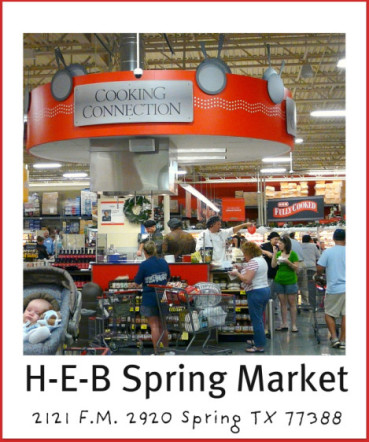 As soon as I entered the grocery store I grabbed a shopping cart.  I knew I was going to need the shopping cart to help me create a path through the sea of people and the shopping cart did just that.  I did run into numerous shopping cart traffic jams but what can you expect, it was opening day.
The store was a delicious sample smorgasbord.  There were samples of sushi, pineapple, bread, cookies, lump crab meat ceviche, chili, King ranch chicken, cheese, shrimp salad, chocolate, and wine.  Some samples, such as the sushi, were more popular than others and had people standing in line waiting for a sample.  Since I came around lunch time I was hungry and did my fair share of sampling.  I didn't sample the wine because it was the middle of the day and I passed on the cookies and chocolate because I am not that fond of sweets.
With the sampling out of the way, my husband and I went in search of the $20 in free items listed on the coupon we had received in the mail from HEB.  I don't know how many of these coupons HEB mailed to households in Spring Texas but it must have been a lot because about everyone in the store had a coupon with them.  The coupon was for FREE Ritz crackers, goldfish crackers, ice cream sandwiches, cooked chicken strips, package of cheese, and a six pack of Pellegrino water.  In addition to picking up the free items, we picked up two wonderful looking Rib eye steaks.  At a price of $5.99 lb for a USDA Prime cut, the steaks were too good to pass up.
The HEB Spring Market has a lot of the same offerings as the other newer HEB stores including a
Cooking Connection, in-house bakery, extensive cheese shop, over 900 fresh fruits and vegetables, fresh seafood, and quality cuts of meat.
The only offering lacking from the HEB Spring Market is their Central Market prepared foods on the go.  The HEB at Louetta and Stuebner Airline and HEB Vintage Marketboth have the Central Market prepared foods on the go with a brick pizza oven but not the HEB Spring Market. I will just have to visit one of HEB's other stores when I get a craving for their Love Dip that needs to be satisfied.
Since HEB's Spring Market is located closer to my house than their other stores, the time it takes me to do my weekly grocery shopping will be reduced by 20 minutes.  Yea!!
Read also: