The popular and heavily traveled Farm to Market 1960 (F.M. 1960) has gone through a name change or should I say name designation.  Last summer, the section of F.M. 1960 from SH 249 a.k.a. Tomball Parkway east to Aldine Westfield was designated the Cypress Creek Parkway. 
Local community leaders believed the area lacked a clear identify and thought it would benefit from an alternate name.  After much discussion and several years, the alternate name of Cypress Creek Parkway was chosen because Cypress Creek runs through the entire area. Cypress Creek was also the place of initial settlement when our area of Harris County was first populated.  
Since the Cypress Creek Parkway is not a name change but merely a name designation businesses owners along the new Cypress Creek Parkway do not have to change their stationary to Cypress Creek Parkway. The postal service will still deliver mail addressed to the F.M. 1960 addresses.
Now here's the confusing part.  Google and Bing maps have the section of road identified as Cypress Creek Parkway while all the road and exit signs off of I-45 still say F.M. 1960. Additional road signs are suppose to be installed but they are not in place as of this writing. 
This is not an issue for long time residents of the area because the vast majority of them are not aware of the Cypress Creek Parkway designation. Plus they know their way around the area and do not need to use a map. 
But if you are relocating to Northwest Houston and the Spring Texas area, the inconsistency between maps and road signs is bound to have you doing some head scratching.  The sad part is this is not the only road you will have to learn its alternate name designation as we have several others including Highway 249 a.k.a. Tomball Parkway and I-45 a.k.a. North Freeway.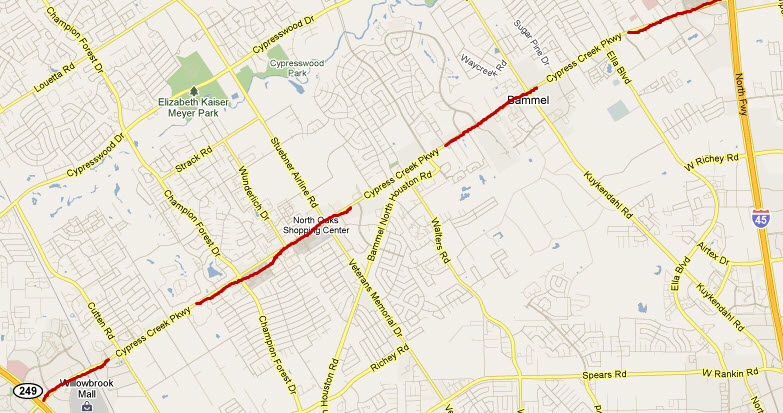 To get a better view of the area, click on the map of Cypress Creek Parkway.
Related posts: