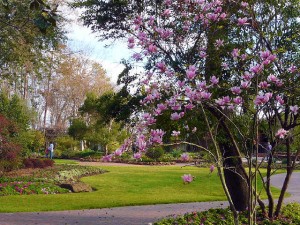 On March 25 and 26, the grounds of the Mercer Botanical Gardens will be filled with gardeners loading their squeaky red wagons with the 1,200 species of plants available for sale.
In its 37th year, Mercer's March Mart is one of the largest plant sales in the state of Texas with attendance numbers totaling over 4,000. The annual plant sale is made possible by the help of over 150 volunteers many of whom are certified Master Gardeners.
The 2011 March Mart is a FREE event scheduled for 8 am – 4 pm on Friday, March 25th and Saturday, March 26th. As with any sale, if you want to get the best selection, you will want to go on the first day of the sale.
Mercer Aboretum and Botanical Gardens is located at 22306 Aldine Westfield Humble Texas 77338.
Learn more about Mercer Arboretum and Botanical Gardens