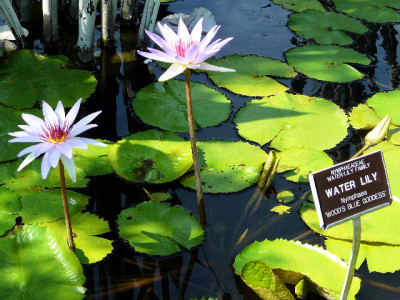 Encompassing over 300 acres of East Texas Piney Woods along Cypress Creek is the nationally recognized Mercer Arboretum & Botanic Gardens.  On the east side of Aldine Westfield is where the over 20 acres of Botanic Gardens, courtyards, and the Visitors Center are located.
To avoid missing a single garden, stop by the visitors center and pick up a map.  The map identifies the location and provides descriptions of the facilities 23 gardens including the herb garden, perennial garden, memorial fern garden, tropical garden, and Azalea Berms.
On the west side of Aldine Westfield is where the arboretum is located along with two playgrounds, a wooded picnic area with 58 picnic tables, Hickory Bog, Oxbow, Bald Cypress Pond with an observation platform and several miles of non-paved and well marked trails.
On numerous occasions, Rick and I have  taken advantage of having such a top notch facility located within 15 minutes of our Spring Texas home. We will usually stop at a local deli shop for a sandwich and soda and start our afternoon by enjoying a picnic lunch at the arboretum side of  Mercer's Arboretum and Botanic Gardens.
After lunch, we head over to the Botanic Gardens to stroll its paths and discover what plants and flowers are blooming.  Since Mercer Arboretum and Botanic Gardens provides plant labels through out its gardens it makes it easy for us to identify the names of the flowers.
[nggallery id=21]The Botanic Gardens is a photographer's paradise especially for amateur photographers like me. No matter which month of the year it is you will find some blooming plant or flower begging to have its picture taken.  Included here are the photos I have taken at Mercer Arboretum and Botanic Gardens.  But my photos are certainly not the only photos that have been taken.  Just go to Flickr and search for photos tagged Mercer Arboretum and you will find over 1,700 photos.
view FULL images by clicking on the thumbnails
[nggallery id=27]
Mercer Arboretum & Botanic Gardens is open 361 days of the year.  During the Summer, the Mercer Arboretum & Botanic Gardens are open Monday – Saturday:  8 am – 7 pm and Sunday: 10 am – 7 pm.  During the Winter, Mercer is open daily from 8 am – 5 pm.
Admission is FREE.  And I don't know about you but I have always been able to afford FREE.
If you want to learn about some of the other wonderful Spring Texas parks, read: