Due to the growth in the Spring Texas area, we are experiencing a resurgence in construction projects.  In the old news category is the 385 acre Exxon Mobil campus under construction South of Spring Creek and West of I45.  Recently Exxon Mobil announced an increase in the number of employees to report to the campus from 8,000 to 10,000.  Employees are projected to report to work at the new campus starting in 2014 with the transition to be completed by the middle of 2015.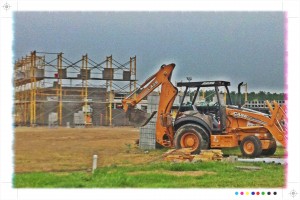 New construction projects in the Spring Texas area include:
NW corner of Louetta and Sorrell Ridge Dr – Stripes convenience store
SE corner of Cypresswood and Champion Forest Dr – Chase Bank. The project has a September 2012 completion date.
NE corner of FM 2920 and Hannover Woods – 10,000 sqft shopping center. Projected tenants are Pacific Dental Services, Great Clips, Papa Murphys, and Cash Store
Retail expansion of Spring Market anchored by HEB – 13,000 sqft expansion. Projected tenants are Castle Dental, Edible Arrangement, Yogurt, and Little Caesars. Photo to the left is of the retail expansion currently under construction at Spring Market.
We are going to be seeing dump trucks, cranes, and bulldozers in Spring Texas for the next couple of years.