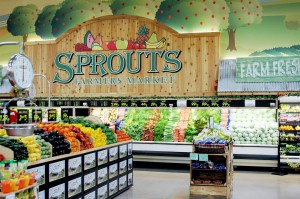 Grocery competition in Northwest Houston is about to get hotter with the announcement of Sprouts Farmers Market securing a location in the Spring Cypress Village center.
Kroger and HEB already have stores in the Spring Texas area and in June of 2012, Trader Joe's opened at Kuykendahl in Woodlands Parkway in the Woodlands. But Trader Joe's isn't the only grocer that has realized there are more mouths to feed from the continued population growth in Northwest Houston.
ALDI's has started construction on a store across from HEB at FM 2920. Whole Foods has announced plans to open a store in 2014 at Louetta and Cutten.
If your heart or should I say stomach desires organic, ethnic, speciality, or maybe a bottle or two of Two Buck Chuck,  the good news is you won't have far to drive.
Photo – Courtesy: Sprouts Farmers Market