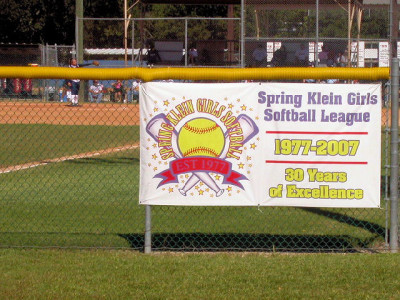 As you drive down the tree lined esplanade of Cypresswood about 1/10th of a mile to the east of Stuebner Airline you come across one of Spring Texas's largest baseball field parks. Collins Park is a 55 acre facility with 5 lighted softball fields and 4 lighted baseball fields.
Collins Park is home to the Spring Klein Girls Softball League. The Softball League has been developing the character of young girls for 30 years. The Softball Leagues is in its 18th year of hosting the Ronald McDonald Tournament and NFCA (National Fast Pitch Coaches Association) Camp.
The Ronald McDonald Tournament is a charity event that over the years has donated over $200,000 to the Ronald McDonald House of Houston. The NFCA Camp is attended by college coaches from across the nation looking for players to fit into their college softball program. In 2006, over 100 college coaches attended the camp. Could a softball college scholarship be in your girl's future?
Collins Park in Spring Texas has more than just baseball fields though. There are Soccer fields, Sand volleyball, and a lighted Basketball court. And paved trails that follow the path of Cypress Creek and connect Collins Park to Meyer Park.
View full images of Collins Park by clicking on the thumbnails
Collins Park has something for kids of all ages to enjoy. There is a playground designed for children ages 2 to 5 and a more adventurous playground for kids ages 5 to 12. Pack a picnic and make a day of it at the park. Your kids will love it and so will you. Looking for a place to hold your child's next birthday party? Why not Collins Park. Pavilions with picnic tables and BBQ grills are waiting for you.
The park has a Skate park with mini ramp and fun boxes for your children to master their dare devil tricks. There are benches for you to sit and watch with the band-aids ready just in case. Spending the day at Collins Park is just one of many fun things to do in Spring Texas.
Read Also: