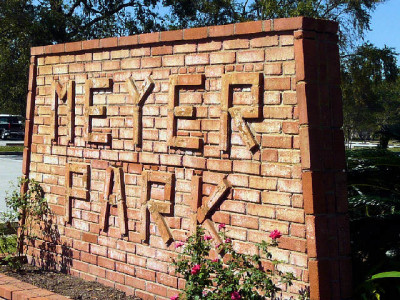 As you drive down the tree lined esplanade of Cypresswood just west of Stuebner Airline you come across one of our most prized parks in Spring Texas, Meyer Park. The sooner you discover this gem the better.
Meyer Park is a 286 acre park with 26 soccer fields with 10 of them being lighted. Who knew that Soccer had such a huge following in Spring Texas? Come out to the park on a Sunday and you too will be saying "Sundays are for Soccer".
If your child is interested in playing soccer, contact the Klein Soccer Club. They offer organized recreational soccer for children pre-k through 19 years of age.
Meyer Park has a three acre fishing lake for catch and release fishing. Its a great place to drop your line and hopefully you will get a nibble. If fishing is not for you, you can enjoy the duck pond and feed the many geese and ducks that call it "home".
If you desire to get a little closer to nature, take a walk on one of Meyer Park's unpaved trails. If you are looking for a great place to roller blade, ride your bike, walk, jog, run, or walk your dog, Meyer Park has numerous paved trails to accommodate you. After you have worked up a thirst, stop by the concession stand and purchase a frozen lemonade for $2.00 that will freeze your brain and cool you off at the same time.
A park should be a place for people of all ages to be kids or at least to be able to act like kids. When was the last time you climbed a tree just because it was there. Meyer Park in Spring Texas has numerous pavilions, picnic tables, and barbecue grills all the things you need to host a birthday celebration for that special someone. If you want to reserve a pavilion contact the Parks Reservation Office at 281.353.4196.
Let's not forget the playground equipment for the kids, because after all isn't all about the kids. There is something special about watching children play as they ask you to push them higher and higher. Enjoying the day at Meyer Park is just one of the many fun things to do in Spring Texas.
If you are wanting to live close to Meyer Park, consider searching for a home in the Spring Texas neighborhoods of Champion Forest, Wimbledon, Wimbledon Champions, or Kleinwood.
Read Also: