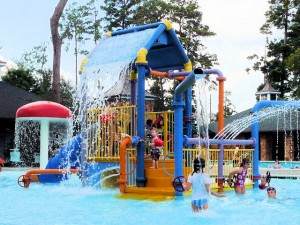 Does your wallet seem a little lighter this summer?  Are you wondering how you can have a vacation without spending a fortune? 
With numerous things to do and see in and around the Spring Texas area, a staycation may be just the answer.  The good news is there are loads of things to do that don't require you to empty your wallet to enjoy them.
To help you answer the question of  "What's there to do?",  I have put together a list of ideas: 
Enjoy a night at the movies at the Silverado IMAX or double your fun by watching a movie and eating dinner at the same time at the Movie Tavern.
Take in a concert at the Cynthia Woods Mitchell Pavilion or the Sam Houston Race Park.
Spend a day visiting the numerous museums located in the Houston Museum District or stay even closer to home by visiting the Pearl museum or the Children's museum in the Woodlands.
Get wet and cool off at your neighborhood's swimming pool or take a plunge at Splashtown.
Try your luck fishing at Meyer Park or Burrough's Park
Travel to some far away land and time by becoming absorbed in the book you borrowed from the Barbara Bush Library.
Enjoy a new release movie on the cheap by renting from RedBox for $1.08 a night.  RedBox is becoming more popular and available at many Walgreens, Walmart, and McDonalds.
Run away and watch the circus.  The Ringling Bros. Barnum and Bailey Circus is performing at Reliant Stadium from July 19th – 26th.
Explore the Woodlands waterway with a ride on one of its water taxis.
Go out to Minute Maid ball park and root, root, root for the home team and buy some peanuts and Cracker Jack.
Be a tourist and spend the day browsing through the 150+ shops and restaurants at Old Town Spring.
Break routine and try out a new pizza joint or tex / mex restaurant.
Play games at the Main Event.
Watch water dance to music and lights at the Woodlands water fountains.
Visit the Houston Zoo and see if you can talk to the animals.
Explore the hiking trails at Mercer Arboretum and appreciate nature's beauty at Mercer's Botanical Gardens
Pick blueberries at Neal's blueberry farm.
Spend the day pursuing the aisles of IKEA.
Practice your ice skating at the Galleria's ice skating rink.
Enjoy an ice cone at Brusters.
With so many ways to have fun in and around the Spring Texas area, get out and enjoy yourself.  Don't let a lighter wallet be the reason you stay inside all summer because there's lots of things to do on the cheap. Enjoy your staycation!!!
Photo taken of the Splashpad at Gleannloch Farms