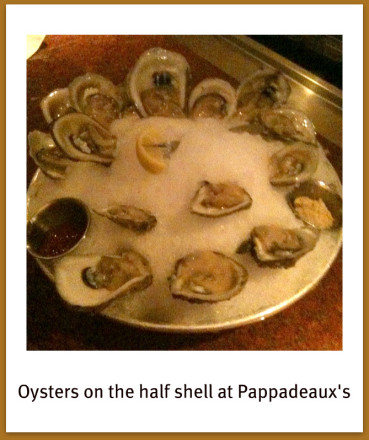 Oysters on the half shell … it seems either people love them or think they are slimy inedible objects.  I am one of those people who love, love, love oysters on the half shell.
Finding reasonably priced and good oysters on the half shell in Spring Texas is not quite as difficult as finding a pearl in an oyster but its close.
My search for good oysters on the half shell has ended with my recent discovery at Pappadeaux. On the criteria of taste, size, and price, they receive all "10"s from me.
The oysters are the right combination of silkiness and grittiness and are accompanied by the traditional cocktail sauce and a ponzu sauce.  Their size vary from small to large.  The Texas gulf oysters are currently on Pappadeaux's menu at a can't be beat price of $3.95 a dozen.  A great price especially for the quality of the oysters.
Pappadeaux's has two locations within 12 miles of my house in Spring Texas.  Because of its upscale atmosphere my favorite of the two location is the Woodlands location at 18165 I45 Shenandoah TX 77385.
Just before I slurped them down, I took a photo of one of the two dozen oysters I enjoyed on our recent visit to Pappadeaux's.  The photo was taken with my iPhone so the the picture does not do the oysters justice.
Great oysters on the half shell at Pappadeaux is another reason to live in Spring Texas.
Read also:
Due to the new FTC regulations requiring bloggers to disclose any freebies or payments they receive for reviewing products I include the following:
Disclosure:  Pappadeaux's has not paid me to write this post about their oysters nor have they promised me any free oysters. Bummer!