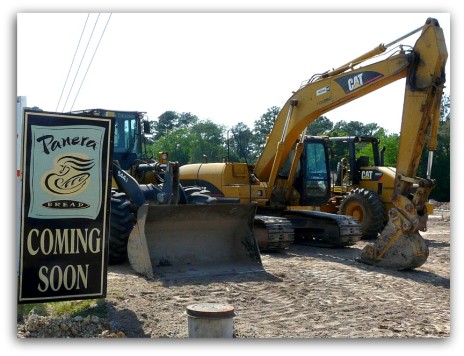 Panera Bread will be the fourth restaurant to open a store at the busy NW corner of I-45 and Louetta in Spring Texas. As they will soon be the new neighbor of Cheddar's, Juan & Lefty's, and Furr's Fresh Buffet.
Cheddar's and Juan & Lefty's are currently open and doing brisk business. While Furr's Fresh Buffet should not be far behind. If you are wanting to work at Furr's, here's your opportunity. They are holding a job fair through April 29th for waitstaff, bar service staff, cooks, and dish room attendants.
When Juan & Lefty's and Furr's Fresh Buffet were under construction there were no signs announcing their arrival. They kept us guessing until their signs were installed on the buildings.
Panera Bread on the other hand have annouced their arrival with a coming soon sign even before their foundation's slab has been poured. Soon can not be soon enough for me as I love Panera Bread's soup, sandwiches, and the Macaroni and Cheese that brings back fond childhood memories.