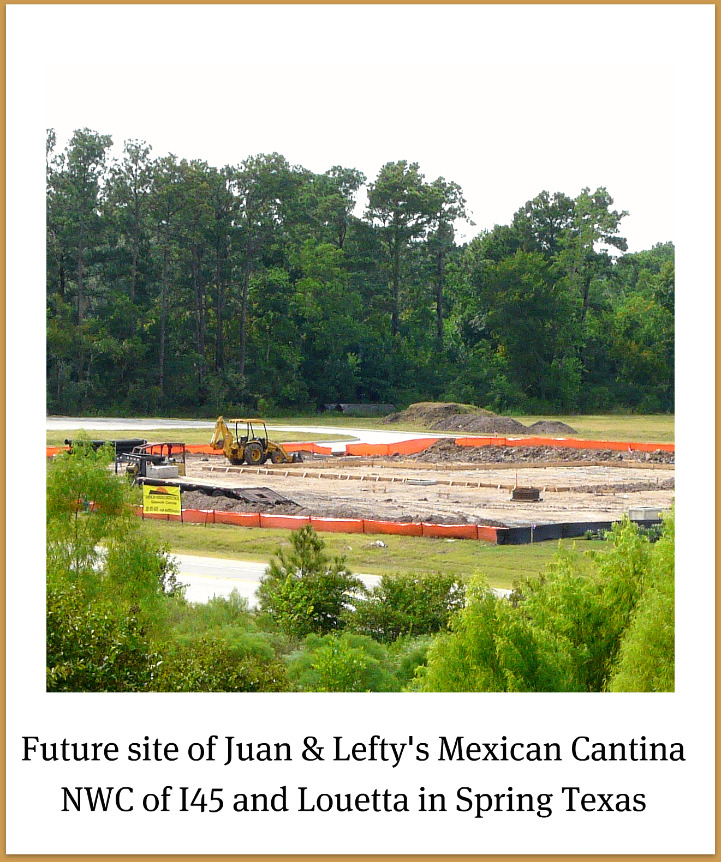 The ground is being leveled and dust is a whirling from the additional development occurring at the northwest corner of I45 and Louetta in Spring Texas.  As the extremely popular and the seemingly always busy or at least it is every time we go, Cheddars Restaurant will soon have a new neighbor to its west. 
The new neighbor will be Juan & Lefty's Mexican Cantina. The cantina is projected to be 7,500 square feet which is similar in size to Cheddars.  According to a representative at Property Commerce, the projected opening day for Juan & Lefty's Mexican Cantina will be in roughly six months. If you can't wait for this location to open, you can visit the Juan & Lefty's in the Willowbrook Mall area in the meantime.  
Personally, I was a little disappointed when I found out the construction was going to result in another mexican restaurant.  Don't we have enough mexican restaurants in Spring Texas already?  I cetainly think we do. 
I have never eaten at a Juan & Lefty's so I will give the cantina a try when its open.  I just think a better choice would have been an Applebee's or a Macaroni Grill or a Sushi restaurant.
Read also: