We have now arrived at the end of our journey down the path to homeownership as we have arrived at the anxiously awaited day of Closing Day.  Although there were many steps we had to complete the actual time elapsed from Step 5 – Negotiating an Offer to Step 13 – Closing Day has only been about 30 calendar days.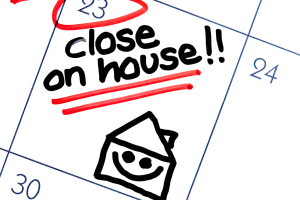 Closing day is the day you will officially close and become proud owners of your first home.
Where does the Closing occur?  –  In Spring Texas, our closings are held at title companies. The title company that will hold the closing is the same title company you made your earnest money check payable to.  The closing will occur at a defined scheduled time.
Who attends the Closing? –  The title company's escrow agent, your agent, and you. Sometimes your mortgage lender will attend the closing.
What to bring to Closing – A valid drivers license and a cashiers check made payable to the title company for the amount needed to close on the home.
How long does the Closing last? – The closing you last about 1 hour. The title company's escrow agent will briefly describe the documents you need to sign.  If you want to read all of the documents before signing you should budget 2 hours of your time for the closing.
Difference between  Closing and Funding –  After you and the sellers have signed all the documents that were placed in front of you the closing has officially taken place.  But you do not own the home just yet. The next step is for the title company's escrow agent to send the documents over to your lender.  The lender will then wire to the title company the money to fund the loan.  After the closing has occurred and the loan funded, a BIG CONGRATULATIONS is in order because you are now the owners of your first home.
If you have missed one of the previous steps in our first time home buyers series,  you can find them through the links below: