About 87% buyers start their home search on the Internet and for good reason too. With just a few clicks of the mouse, buyers can view listing information, watch virtual tours, pinpoint the home's location on a map, and view multiple photos.  And with numerous real estate web sites from which to choose from you just may have a difficult time deciding which one you like best.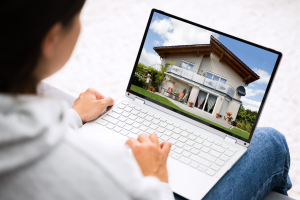 A couple things to note about real estate web sites, they do not all have the same listings and sometimes their listing data is outdated and does not reflect a home's current list prices or status.  The real estate web sites with the most reliable listing data and comprehensive listings are the ones which receive a direct feed from the local MLS (Multiple Listing Service).
Searching for a home involves asking yourself a series of life and lifestyle questions.  How many years do you plan on living in the home?  Are you planning on adding to your family?  Do you have a preference of School districts?  How close do you want to be to your place of employment?  Are there particular Spring Texas Neighborhoods you're interested in?  Do you want to be close to retail, grocery stores or parks? Are you a handy person and can handle doing repairs or do you want the home to be move-in ready?
Then you finally get down to the basic questions. Do you want a 1 story or 2 story home?  How many bedrooms do you want?  How many bathrooms?  How many car garage?  What size of yard? and What price range?
In the end you will probably have to do some compromising. So when you are thinking through the criteria of your home, it's a good idea to create a list and to organize the list between "Must Haves or Needs" and "Nice to Haves or Wants".
A couple tips on searching for a home:
Sometimes pictures do not present the true picture.  A home that you may love online may be totally not what you are looking for when you view it. Realtors know how to accentuate the positive features of a home.
Don't get discouraged. You may have to view several homes before finding the right home.  But when you do find the perfect home you will know it.  The home will just feel right and you can easily envision yourself being very happy living in it.
Be flexible. You may think you know exactly what you want in a home. But after you have been looking for a while its natural for your criteria to change.
Read also:
If you have missed one of the previous steps in our first time home buyers series,  you can find them through the links below: