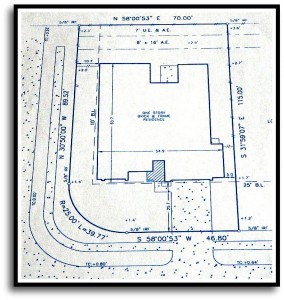 Survey – shows if the home is within the property borders, whether there are any encroachments on the property by its neighbors, and the location of any easements. Your Spring Texas real estate contract specifies whether you as the buyer of the home or the sellers will pay for the survey.
The survey which costs around $400 – $500 is typically considered a buyer's expense since it is the buyer's lender that requires a survey for the property. If the sellers have an existing survey and no changes have been made to the property since the date of the survey, your lender may accept the existing survey which will save you the cost of getting a new survey.
Either the title company or the lender will contact a surveyor and place the order to have the survey performed. The survey is usually completed within 3 – 4 days of the day it was ordered. Click on the photo to view a larger image of the survey.
From the day your offer turns into a real estate contract to closing day, your buyer's agent will act as a Project Manager who will coordinate and track the tasks that need to be accomplished. The ordering and receipt of a lender accepted survey is one of the many tasks your real estate agent will perform.
Appraisal – as one of the conditions of your loan your lender requires the home you are purchasing to be equal to or greater than the amount of money you are borrowing. To determine the value of the home the lender will order an appraisal to be performed. On average an appraisal will cost $475 and will be completed within ten days of the date it was ordered. Your real estate agent should contact your lender and confirm that the home has "met value". By meeting value, we mean that the appraisal came in for at least the negotiated sales price of the home or higher.
Usually lenders will only share with the buyer's real estate agent whether the property met value and not the appraisal report. But as the buyer of the property it is your right under federal law to receive the appraisal and I highly recommend you not only get your appraisal but you also review it.
Read also: Appraised vs Market Value
If you have missed one of the previous steps in our first time home buyers series, you can find them through the links below: